Personalised Fathers Day Birthday Gift For Dad Photo Wallet Card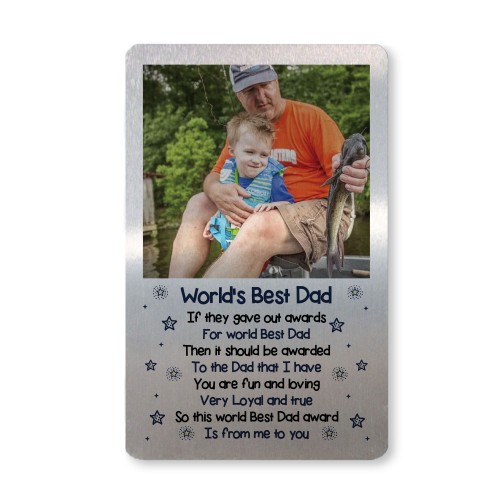 A beautifully printed metal wallet card with a personalised touch!  A lovely keepsake and a quality alternative to just have a photo in your wallet! Give your Dad something they can carry with them wherever they go and treasure for years to come! The perfect birthday / christmas / fathers day gift and is a gorgeous, quality keepsake that will last for many years! Express your love through a beautiful keepsake today! Fathers Day Gift! Gift For Dad! Dad Gift! Gift For Him! Dad Gift From Daughter!
The message on this card reads:
"World's Best Dad
If they gave out awards
For worlds Best Dad
Then it should be awarded
To the Dad that I have
You are fun and loving
Very loyal and true
So the worlds Best Dad award
is from me to you"

Personalisation information:
After purchase, please send in your personalisation details.
We need:
Please Provide us with the photo (Best possible quality)
The business card sized metal card is made from high quality aluminium, and the design is permanently printed into the metal using the process of sublimation. The perfect size to fit inside any wallet and will last for years to come!