15th Birthday Gamer Card For Son Brother Gaming Theme Card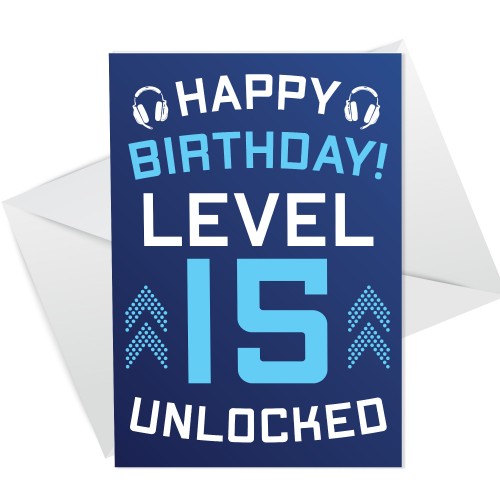 With a range of quirky quotes and funny messages to make the recipient laugh on the special occasion! Give this gift with love and put a smile on their face when they open it. This gorgeous card is a beautifully printed and can be keepsake that will be treasured for years to come.
Every card and gift from Red Ocean is handmade with care and attention in the UK, we take pride in our work and we try our best to make each gift perfect. Our design team is regularly adding new ranges and we cater for every occasion, so our cards can be paired with other items from our range, Wooden Hearts, Plastic Wall Signs, Wall Mounted Frames, Wallet Cards, the options are endless. Be sure to browse for more Red Ocean Gifts.
This Card is printed with the words:
"HAPPY
BIRTHDAY
LEVEL
15
UNLOCKED"

We print to the highest of quality with our close attention to detail and precision. Ensuring that your gift is of the best standard, you can trust Red Ocean Gifts to make the perfect gift for you.