Best Friend Sign Engraved Hanging Heart Friendship Plaque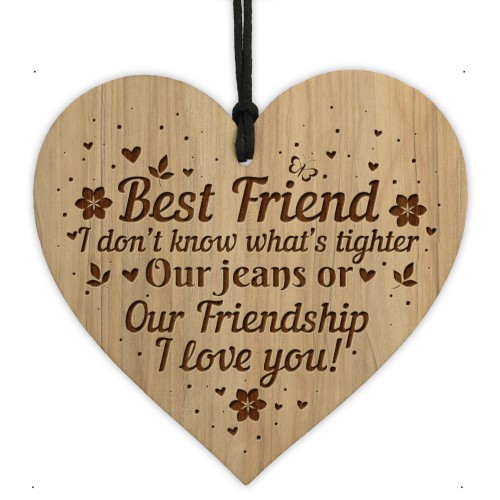 This wooden hanging heart plaque has a beautiful message engraved. This gift is suitable for a Birthday or Christmas. Give this gift with love and put a smile on the recipients face every time they read it.
The wooden has is perfect to hang on a wall, a kitchen or coat hook or even on the neck of a bottle. Sure to be loved by the lucky recipient. The heart is professionally engraved so will last for years to come.
Whatever the occasion this beautiful keepsake will be cherished by anyone who receives it. Each one is made with love by the dedicated Red Ocean team paying close attention to detail, with high quality engraving ensuring you the best product to last for many years to come.
The wonderful range of Red Ocean wooden hearts are perfect to buy for yourself or give as a gift to a family member or loved one. Each heart is hand packaged ready to gift. We have a gift for everyone, Mum / Dad / Nan / Grandad / Auntie / Uncle / Brother / Sister, Men, Women. The perfect range of gifts for a Birthday, Christmas, Anniversary, Valentines.
The hand crafted real wood heart measures 10cm, is gift packaged and includes a variety of waxed cotton cord to hang. We've made these for replacing traditional greetings cards, placing in hampers or on the next of a bottle, or to even hang on a Christmas Tree. There are so many uses, you are sure to not be dissapointed. We have thousands of exclusive designs, with original verses, that touch the heart.