1st Anniversary Gift First Valentines Day Gift Framed Print Gift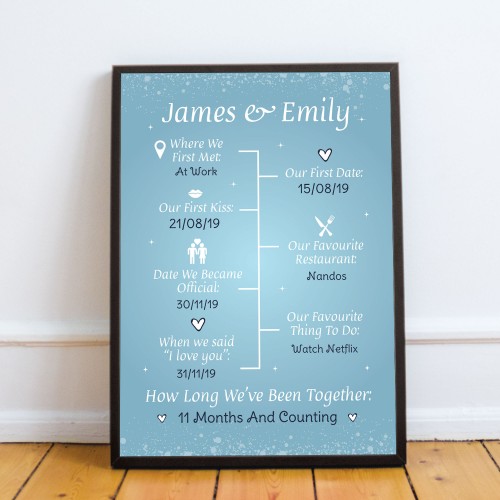 This Framed A4 Print will look great hung in any part of the house. Give this gift with love to your Boyfriend / Girlfriend / Husband / Wife and put a smile on their face when they get this. This gorgeous print makes an amazing Valentines or Anniversary gift. Supplied ready to hang / stand, a beautiful keepsake that will be treasured for years to come.Valentines Day Gift! Valentines Day Card! First Valentines Gift! First Valentines Card! Personalised Valentines Gift! Couple Gift! Gift For Boyfriend! Gift For Girlfriend! Anniversary Gift! Anniversary Card! Gift For Husband! Gift For Wife!
This Print is printed with the words:
"Any Names
Where we first met:
Our First Date:
Our First Kiss:
Our Favourite Restaurant:
Date We Became Official:
Our Favourite Thing To Do:
When we said I love you:
How Long We'be Been Together"

Personalisation information:

After purchase, please send in your personalisation details.

We need:

Recipient Name
Where you first met
Your First Date
Your First Kiss Date
Your Favourite Restaurant Name
The Date You Became Official

Your Favourite Thing To Do
When You Said I Love You Date
How Long You've Been Together Date

Please take care when sending us information. We will follow your style of writing, including Capital Letters, punctuation and spelling.
The plaque is made from A4 Card. The design is printed onto the card, paying close attention to fine details and finishing. The A4 print is supplied within the frame with a hanging hook and stand attached.