2nd Birthday Gift For Boys Heart 2nd Birthday Gift For Girls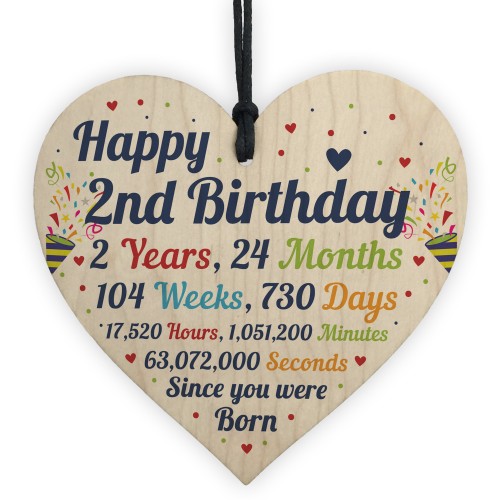 This gorgeous wooden heart plaque printed with this funny message would be a great gift for someone turning 2! 2nd Birthday Gift For Girl! 2nd Birthday Gift For Boy! 2nd Birthday Gift! Funny Birthday Gift! 2nd Birthday Card! 2nd Birthday Decoration! Give this gift with love and put a smile on your friend's face every time they read it.
Perfect to hang on a wall, a kitchen or coat hook or even on the neck of a bottle. Sure to be loved by the lucky recipient.
The message on this heart reads:
"Happy
2nd Birthday
2 years, 24 Months
104 Weeks, 730 Days
17,520 Hours, 1,051,200 Minutes
63,072,000 Seconds
Since you were
Born"

The sign is made from FSC Certified wood, and the design is permanently printed into the wood. The wooden heart is supplied with waxed cotton rope to allow easy hanging and looks great in any room of the ho